I didnt update this blog so long once again....
I dont mind if not much people view.. i just want to post on here :)
I really miss thailand -3- but I had great times w/ my friends at school here ..which mean school here is so much better...
but finally....... school end :D summer time..! ( summer here is pretty hot like Thailand.. for real)
I have some pictures that from last day of my school :D
waiting for school's bell =] my friends sitting w/ me Jean (actually ..shes my girlfriend :3 ) & her friend (Kevin)
in Chinese class :D 2 of my friends Debora + Ashley (they both are Korean~)
Brent ..he looks so bored but he kinda quiet guy =]
still in chinese class.. Ashley + Ryan (hes chinese :3 )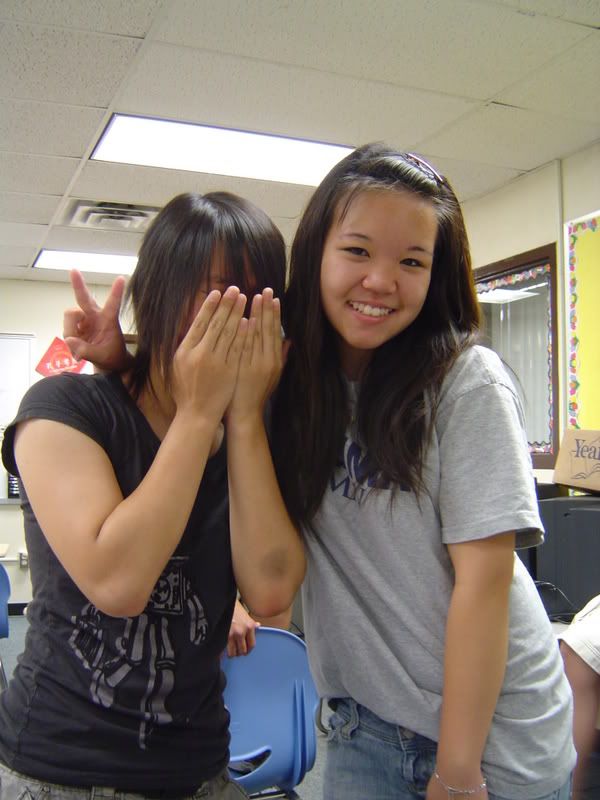 555.. Ashley cover her face..i dont know why :P + Sarah (girl at right) shes chinese also :D
me: Jean, could i sleep on your shoulder ?
jean: ughh... alright..
me: ..this is so comfortable
jean: *blush* lol ^_____^,,
Steven ..hes Vietnamese =)
i love this girl name.. "Angel" :D she pretty funny..and shes so small like little girl.. 55+
at Geometry class =] this is Luna ..im not sure that where she from but i think shes half italian and something.. I like her hair :D
still at Geometry class ..me+Luna+Jean ^___^
when school end.. angel wants to take a pic of me & jean :D
sigh.. summer is good but i miss my friends so bad... -3-
mm ALSO my friends in thailand.. of course =] but some of them probably forget me already ... 55+
edit @ 2007/07/17 05:34:45
edit @ 2007/07/19 05:10:34